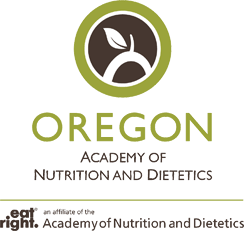 Our members are leaders in food and nutrition.
more

A professional membership organization representing Registered Dietitian Nutritionists and Nutrition and Dietetic Technicians, Registered. Our 750 members are proud to serve Oregonians with our food and nutrition expertise.

Anne Goetze, RD, LD, FAND 2019-2020 Oregon Academy of Nutrition and Dietetics President
What's New
Join us for our virtual webinar series! Five sessions - all free! Learn more and register.
Congratulations to our 2020 award recipients! Learn more here.
Find current COVID-19 resources (including telehealth) here.
New! Find us on LinkedIn and connect.