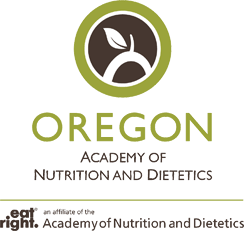 Our members are leaders in food and nutrition.
more

Welcome to our website! We are a professional membership organization representing Registered Dietitian Nutritionists and Nutrition and Dietetic Technicians, Registered. Our 700+ members are proud to serve Oregonians with our food and nutrition expertise.
Congratulations to this year's Oregon Academy Award recipients! We honor and celebrate you! Learn more.

Meredith Kleinhenz, RDN, CSG, LD 2020-2021 Oregon Academy of Nutrition and Dietetics President
What's New

We hope you are enjoying our 2021 Virtual Conference! Learn more.
Our Legislative Day activities continue! Details here.
Would you like to be featured in our members on the move? Submit your info here!
Find current COVID-19 resources (including telehealth) here.