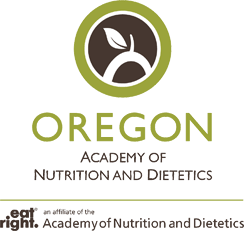 Our members are leaders in food and nutrition.
more

A professional membership organization representing Registered Dietitian Nutritionists and Nutrition and Dietetic Technicians, Registered. Our 700+ members are proud to serve Oregonians with our food and nutrition expertise.

Meredith Kleinhenz, RDN, CSG, LD 2020-2021 Oregon Academy of Nutrition and Dietetics President
What's New

Convention registration is open! Learn more.
Consider submitting your nomination for an Oregon Academy award!
Join us for our 2021 virtual Legislative Day! Details here.
Find current COVID-19 resources (including telehealth) here.